Clear Aligners at Plaza Dental Centre
Your Hurstville TRU-LINE Dentist
Healthy, correctly aligned teeth are the foundation to a beautiful smile. But not everyone is naturally gifted with a straight bite. Thanks to TRU-LINE orthodontic aligners, our patients at Plaza Dental Centre can enjoy translucent "braces" that work without brackets or wires.
Investing in a Healthier Smile
A properly positioned bite tends to have a lower risk of developing cavities, gum disease and TMJ disorder (TMD). For many of our patients, braces are something that aren't an option until they're adults. Fortunately, it's never too late to have straighter teeth.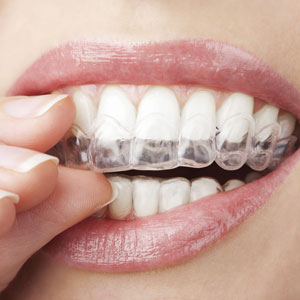 Thanks to TRU-LINE, our patients can straighten their smile in an easy-to-manage system that doesn't restrict their food choices or get in the way of brushing and flossing.
Correct misalignment concerns related to:
Overbites
Underbites
Gapped teeth
Crowding
If your teeth are wearing prematurely or their misalignment is contributing to gum disease, then orthodontic therapy can be part of a comprehensive plan to treat such conditions.
How Does TRU-LINE Work?
Using advanced digital technology, the TRU-LINE system maps out your treatment through a series of pre-programmed alignment trays. By changing the aligners out every two weeks, your teeth are gradually guided into an optimal position without the use of fixed metal appliances. Advantages of TRU-LINE Orthodontic Aligners:
Easier to care for
No dietary restrictions
Fewer appointments
Translucent system that's less noticeable
Perfect for adults of all ages
Are You a Candidate for TRU-LINE?
To get started, schedule an exam and orthodontic evaluation with Dr Nolly. If you qualify, all you need is an impression of your teeth. Your TRU-LINE orthodontic system will be ready to start as soon as your custom aligners are delivered by the lab.
Contact us today to reserve your appointment. Flexible financing options are available with our in-network provider.
* Any surgical or invasive procedure carries risks. Before proceeding, you should seek a second opinion from an appropriately qualified health practitioner.
---
TRU-LINE Clear Aligners Hurstville, St George, Blakehurst NSW
(02) 9570 4007