Dental Crowns and Bridges at Plaza Dental Centre
When you have a small cavity, a filling is all you need to repair your tooth. Unfortunately, larger areas of damage can compromise the integrity of teeth, preventing them from being able to withstand everyday wear, even with a filling. The good news is that a full coverage crown can restore your tooth's function or if it needs to be replaced, a dental bridge is an excellent option.
Custom Ceramic Dental Crowns
Sometimes called "caps," a dental crown covers the entire tooth up to your gums. As a protective shell it prevents additional damage to the underlying structure while allowing the tooth to continue functioning normally. Most of our crowns are made of high-grade porcelain, which allow them to look more natural and blend in with your adjacent teeth.
Crowns can also be attached on top of dental implants in the event that you need to replace an individual tooth.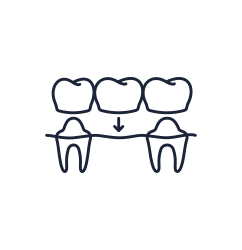 Fixed Bridges
A bridge looks like crowns fused side by side, with the end crowns being functional restorations that set on top of healthy teeth or dental implants. The crown between them is suspended over the open space left by the missing tooth.
Caring for Your Crown or Bridge
While a restoration cannot develop tooth decay, it's possible for bacteria to seep around the edges of your crown or bridge and compromise the tooth underneath. To prevent complications, it is important to brush along the gumlines and floss daily. Do not worry about the floss pulling your crown or bridge off; we will show you how to do it safely.
Get a Professional Opinion
Our holistic dentist considers multiple aspects of your smile before recommending a specific type of restorative treatment or tooth replacement. Schedule an exam today to find out what options you qualify for.
* Any surgical or invasive procedure carries risks. Before proceeding, you should seek a second opinion from an appropriately qualified health practitioner.
---
Dental Crowns and Bridges Hurstville, St George, Blakehurst NSW
(02) 9570 4007