Meet Dr Neville Nolly, Principal Dentist
Combining Creativity With Helping Others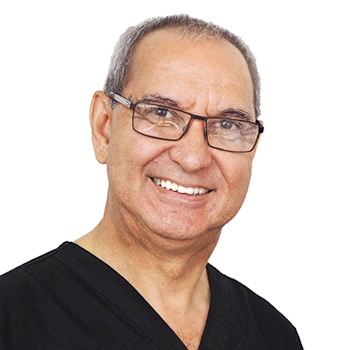 Dentistry appealed to Dr Nolly and his creative side. He enjoys having the ability to use his artistry combined with a want to provide a service that wasn't widely available where he grew up. With a desire to help others, he found that becoming a dentist was the perfect career choice. Dr Nolly enrolled in a highly acclaimed, exclusive dental school recognised all over the world. Though registered as a dentist in the UK, he made the decision to relocate to Australia and enjoy a warm climate and multicultural environment.
With more than 30 years of experience, Dr Nolly has taken a wealth of continuing education courses on topics such as orthodontics, dental implants  and cosmetic dentistry. As an artist, he is dedicated to helping his patients achieve beautiful, natural looks that they're pleased with.
He is a member of the Australian Dental Association and the St George Dental Association.
Outside of the Practice
Dr Nolly is passionate about aromatherapy, which he discovered years ago when his daughter was ill and they didn't want to resort to treating her with tranquilizers. He researched the benefits and came up with a natural solution. He and his wife own a shop where they carry naturally made products such as cosmetics, perfumes, body butters, lotions and room sprays.
Today, his daughter is able to manage her condition using essential oils. His other children include his eldest daughter, a solicitor who is happily married, and his youngest, a son who is completing a master's degree in public health.
In his spare time, Dr Nolly enjoys spending time with friends and family, including his church group.
Want to Learn More?
We're pleased to offer same-day appointments and have late opening hours. Contact Plaza Dental Centre today to schedule your visit!
---
Plaza Dental Centre | (02) 9570 4007